1. GENERAL
This Free License Agreement ("FLA" or "Main Agreement") is an agreement between you ("Applicant") and Dugga AB, Norr Mälarstrand 6A, 112 20 Stockholm, SWEDEN. Dugga provides a digital assessment service (the "Service"). As Applicant you may sign up for a free of charge account (the "Account"), that can be used to conduct digital assessments in your class or school. This FLA governs your use of the Service and any third party software that may be distributed therewith. Dugga's software (the "Application") is installed on servers in Microsoft Azure and through this FLA you will gain access to the Service via the internet, by logging in with the assigned username and password or via SSO.
2. LICENSE GRANT
2.1  Dugga grants you a revocable, non-exclusive, non-transferable, limited right to use the Service in accordance with the terms and conditions of this FLA.
2.2  The Service will be free of charge for the agreed period starting from the date when you signed up for the Account. No purchase obligation and no automatic extension.
3. RESTRICTIONS ON USE
You shall use the Service strictly in accordance with the terms of this Agreement and shall not: (a) Decompile, reverse engineer, disassemble, attempt to derive the source code of, or decrypt the Application; (b) Make any modification, adaptation, improvement, translation or derivative work from the Application; (c) Use the Application for any revenue generating endeavor, commercial enterprise or for other purpose for which it is not designed or intended;(d) Make the Application available over a network or other environment permitting access or use by multiple teachers or schools, not included in this agreement; (e) Use the application for creating a product, service or software offered by Dugga; or (f) Use any proprietary information or interfaces of Dugga or other intellectual property of Dugga in the design, development, licensing or distribution of any applications or devices for use with the Application.
4.USERS
4.1  In your capacity of teacher or educator you may make the Service available only to your pupils/students taking exams and to your colleagues, if any, assisting you in connection with such exams (the "Users").
4.2  You are in relation to Dugga responsible for ensuring that the Users meet the conditions set out in this Agreement, including:
(a) All use shall be in accordance with this Agreement and applicable and current laws and regulations; (b) Required permits exist for the tasks, materials and information processed in connection with the Service; (c) The Service may not be used for sending spam or other illegal material; (d) Material containing software viruses and similar malicious computer codes, scripts, files or programs may not be stored or sent with the Service; (e) Unauthorized access to the Service or associated networks or systems is prohibited; and (f) The Service may not be used in a manner that interferes with or obstructs the integrity or performance of the Service, or the information contained in the Service.
4.3  You are responsible for ensuring that Users take due care with passwords and that unauthorized persons cannot access the Service or documentation linked to the Service.
4.4  You may only use the Service for internal purposes and you are not entitled to process data on behalf of others.
5. SERVICE AVAILABILITY
5.1  Access to the Service is dependent on internet access, which may be subject to restrictions, delays or other issues beyond Dugga's control. Dugga is not responsible for delays, delivery problems or inaccessibility due to such problems or other external factors such as the Customer's equipment or software.
5.2  Some types of maintenance may lead to disruptions in the Service. You will as far as possible be informed of such maintenance work in good time.
6. SUPPORT
6.1  Support cases are sent by e-mail to Dugga's support centre ([email protected]).
6.2  Support is provided during Dugga's office hours Monday through Friday, except Christmas Eve, New Year's Eve and other Swedish public holidays as well as bridging days or other special times specified by Dugga.
6.3. Support means that Dugga will take the measures that Dugga deems necessary to solve software-related problems, based on a detailed problem description from you. However, no guarantees are given that the problem can be solved.
6.4..Support does not include: (a) Problems due to the Service being used in a manner other than Dugga has specified or in other configurations with respect to e.g. operating systems and browsers or otherwise caused by you or Users; (b) Restoration of content in databases; or (c) Issues regarding anything other than the Service, e.g. hardware, internal networks, internet connections or peripherals.
7. SHARING OF INFORMATION
7.1 The Applicant agrees that Dugga from time to time sends relevant information including marketing materials to the Applicant and the Applicant's user. If the Applicant does not wish to receive such information, Dugga should be notified in writing. Since the Service is a web-based software application, it should be noted that it may sometimes be necessary to send important information or messages about the operation of the Service to all Applicants and users. Such messages are sent to everyone, even if the Applicant has chosen not to receive information.
8. LIMITATION OF LIABILITY
8.1  Dugga does not guarantee that the functionality of the Service will meet your individual requirements, expectations or needs, nor that interruptions or errors will not occur during the operation of the Service.
8.2  The Application and the Service are provided on an "as is" basis and all representations, warranties and guarantees relating to the Application or the Service are hereby disclaimed. Dugga does thus not accept any liability for direct or indirect damages caused by the use of the Service.
9. INTELLECTUAL PROPERTY
All rights to the Application and the Service shall vest in Dugga and you do not through this FLA acquire any other right to the Application or the Service than the limited right of use specified herein.
10. SECRECY/PERSONAL DATA
10.1. Dugga and its subcontractors will, during the term of this FLA and thereafter, treat information provided in connection with use of the Service as confidential information and will thus not e.g. without prior approval disclose such information to third parties, except when and to the extent access to such information is required for Dugga's Resellers, Distributors and Partners ("Permitted Recipients") serving your market to be able to contact you and facilitate and deliver the same services to you as provided by Dugga directly to users. Dugga will ensure Permitted Recipents are contractually bound by suitable secrecy and other undertakings commensurate with the Data Processor Agreement mentioned in section 10.2.
10.2  This FLA includes our general Data Processor Agreement (DPA) https://dugga.com/dpa/. Dugga will process personal data to the extent required for Dugga to be able to provide the Service. For more information about how Dugga handles your data see https://dugga.com/data/. Dugga will implement security measures reasonably required to avoid unauthorised access to such personal data. Upon request, Dugga will provide details regarding its processing of personal data.
10.3  All data relating to the Service is stored on servers within the EU, at the Microsoft Azure centre in the Netherlands, Ireland or Sweden.
11. TERM
11.1  This FLA will enter into force when you have, by clicking as required on Dugga's website, validly signed up for an Account and it will automatically, without prior notice of termination, expire after the free period.
11.2. Dugga may terminate this FLA prematurely and with immediate effect in case you or any of the Users fail to comply with the terms and conditions of this FLA.
12. TRANSFER
Dugga may, in whole or in part, transfer its rights or obligations under this Agreement, provided that this does not significantly affect the operation of the Service. You may not transfer your rights and obligations under this Agreement without Dugga's prior written consent, which shall not unreasonably be refused.
13. GOVERNING LAW/ DISPUTES
13.1  This FLA shall be governed by substantive Swedish law.
13.2. Disputes regarding the interpretation or application of this FLA shall be referred to the competent Swedish court, with exclusive jurisdiction in the first instance for the Stockholm District Court.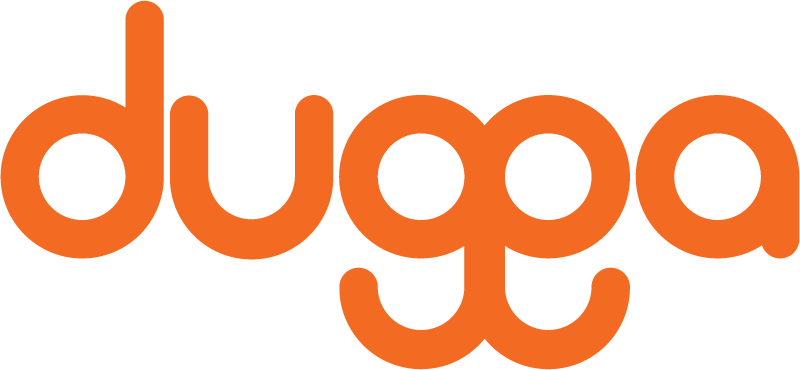 Torsgatan 39, 113 62 Stockholm
© 2022 Dugga. All rights reserved.