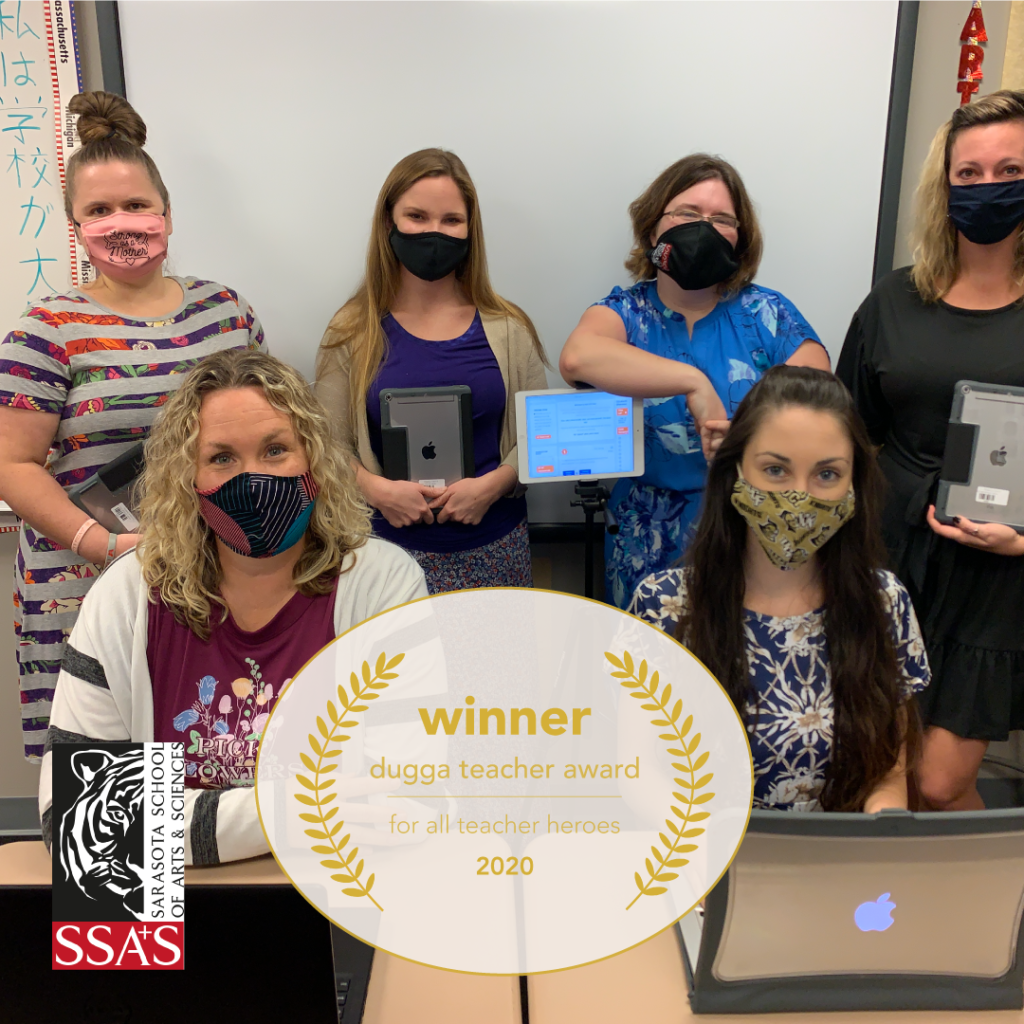 The winner of the Dugga Teacher Award 2020 is Elizabeth Shannon, teacher and Department Head at Sarasota School of Arts and Sciences, Sarasota, USA. This is announced on the annual Nobel day.
The jury selected Elizabeth Shannon as the winner based on her driving the digitalization at her school and to see to it that her school could continue with assessment during the Covid19. Elizabeth and her team of colleagues also provided valuable feedback on digital assessment. Elizabeth views quality in learning as a team effort and together with her colleagues she is doing an outstanding job by collaborating as a team at her school.
"I am fortunate to lead a Professional Learning Community (PLC) of amazing educators dedicated to researching, learning, and troubleshooting instructional technology. These ladies all worked with Dugga in the classroom before I could get to it in curriculum myself. I learned a lot from them. I am extremely honored to be selected as the winner of Dugga's Teacher Award!", says Elizabeth Shannon, Teacher and Department Head, Sarasota School of Arts and Sciences, Winner of the Dugga Teacher Award 2020.
In your opinion, what is the best thing about being a teacher?
Interacting with the students and facilitating their desire to learn. It is a privilege to be able to ask their opinion; watch their eyes widen at being asked; and present them with the truth that their thoughts matter. And when they accept that, it is an even greater honor to be a guide as they find their voice through study, discussion, and collaboration with their peers.
What/who inspired you to become a teacher?
I have wanted to be a teacher since I was in elementary school. It is a calling I could never ignore. Education is the foundation of human society. We have evolved as a species because of our curiosity and pursuit of knowledge. I am proud to be a part of that great tradition.
When you were a child, who were your idols and why?
Honestly, I was a sci-fi fantasy person. So as a child, I looked up to Gandolf and Yoda. They are wise teachers who guide the hero of the story to be their best and think outside the box. They help people reach their potential. I strive to be a well-traveled, slightly eccentric, wise facilitator of knowledge.
What is your favourite feature of Dugga?
Currently in this remote era with students at home and at school, Xit-Check is my favorite feature. It keeps students honest and works on any device.
How has Dugga changed your daily work?
It has cut my grading time in half and provided an assessment tool for Microsoft Teams that is much more robust than Microsoft Forms.
How has the many different question types contributed to how you can assess your students/pupils?
My students can write or draw answers for me. They can label graphs and highlight main ideas. They can write an essay analyzing a political cartoon on the same platform for choosing words from a gap menu in a sentence. I can assess my students with low, medium, and high-level approaches while also allowing for some creativity and fun.
Please share with other teachers your thoughts about digital assessment as part of today's way of teaching.
Providing digital assessments and activities is necessary in the remote learning reality during a pandemic. However, when this pandemic is behind us as a society, there are still many practical reasons for using digital assessments. For example, when I think of my own experiences in the last decade, all my assessments for career certification and qualifying applications have been electronic. Also, all my students' current standardized tests are digital. Students need to feel comfortable navigating digital assessments in order to build their confidence and lessen anxiety. That way they are not worried about how to take the test; instead, they can focus on what is being asked on the test.